What do I need to know before remodeling a kitchen?
If you sometimes have trouble deciding what to make for dinner, a kitchen renovation can feel paralyzing. But take heart: It doesn't really matter much which backsplash tiles or faucet you choose. As long as you get the big stuff right, you'll be thrilled with your new kitchen. These five rules will help you get the best result at the right price.
Keep your outlay in sync with your home.
To avoid overimproving, cap your kitchen renovation budget at 15% of your home's value, suggests John Bredemeyer, president of Realcorp, a national appraisal firm based in Omaha. (Check your town assessor's site or a real estate site). For budgeting purposes, figure about 30% on cabinets; 14% on appliances; 10% on countertops; 5% on lighting; 4% on plumbing fixtures; 2% to 3% on paint; 1% to 2% on tiles, and 35% on construction costs, such as windows, flooring, and labor. For a house worth $250,000, that translates to about $11,000 on cabinets, $5,250 on appliances; $3,750 on countertops, $1,875 on lighting; $1,500 on plumbing fixtures; $1,125 on paint; $750 on tiles; and $12,000 on construction costs.
It pays to pay for your design.
There's no such thing as a free lunch—or a free plan for renovating the place where you prepare lunch. While the designers at home centers, kitchen stores, and cabinet shops won't charge you a fee, they aren't working for free. Their paychecks come from the retailer or manufacturers of the products they're selling, which limits your choices. What's more, in-store designers, especially those working at home centers, tend to be relatively inexperienced with actual renovation work, says Portland, Ore., kitchen designer Chelly Wentworth. Since your project will only be as good as its design, skip the freebies and hire a veteran designer without any conflicts of interest. Expect to pay 3 to 10 % of your project costs for design—a fair price for a design that really works.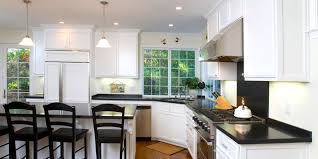 You can expand the kitchen without busting the budget.
Unless your house was built within the last few decades, your kitchen is almost certainly undersized. If you're doing a major renovation (in other words, tearing things out and starting over), now is the time to expand the kitchen; here's how to do it affordably.
Steal space. By repurposing square footage from an adjacent hallway or a no-longer-needed chimney, closet, or porch, you can expand your kitchen at perhaps half the per-square-foot costs of an addition. Exactly how much you'll pay depends on the project and location, but you might pay $100 to $300 per square foot for recapturing space vs. $200 to $400 for building new.
Open the floorplan. Even if you don't expand the kitchen at all, you can make it feel much bigger by taking down a wall and creating an open floorplan between the kitchen and adjacent dining, family, or living room. In the context of a renovation project, this may cost $1,000 to $6,000, depending on whether the wall is load-bearing or contains major plumbing or electrical lines.
Bump out. If you need to expand, you may be able to add a two-foot extension along one whole side of the kitchen by hanging it off the house like a bay window rather than putting it on a foundation. That could save you several thousand bucks compared with a full-fledged addition.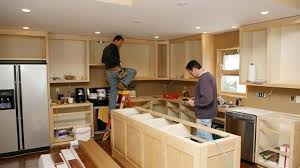 Things to Consider Before Remodeling Your Kitchen
Renovating parts of your home can be a very rewarding process and, when done well, can add considerable value to your property. There are a range of options when it comes to remodeling your home, but if your budget can only stretch to remodeling one room, that room should be the kitchen. It's estimated that a new kitchen will improve the value of your property by around 6% . It's also one of the most important rooms for prospective buyers, so it's worth some serious consideration.
Kitchen remodeling is about more than just aesthetics. You can also focus on better utilization of space, add extra functionality or integrate your kitchen with other areas of your home. Determine exactly what you want to achieve before you start planning your kitchen remodeling project. This will help you to streamline the renovation process and ensure everyone involved is on the same page from the offset.
Set a realistic budget
Before you begin remodeling your kitchen, it's important to consider your budget against the value of your property. There's no point in investing $20,000 in a premium new kitchen if your property is only worth $200,000 – you simply won't get your money back. Equally, if you remodel on a low budget but your property is worth upwards of $500,000, you could end up devaluing your home.
Do your homework and try to arrive at an estimated cost before you go out and start buying stuff. Once you understand exactly how much you are able to invest, and what your return on that investment will be, you can begin designing your dream kitchen.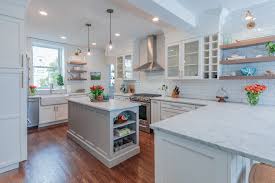 Plan your new kitchen appliances carefully
It's common for people to leave appliances to the last minute when planning their kitchen remodeling. This may mean you run out of budget, or face with unexpected costs, prompting you to opt for lower quality products. It's important to plan appliances carefully, as going for lower quality could end up costing you more, further down the line.
When looking for appliances, consider:
Quality and longevity
Energy efficiency
Size
Features and technologies
Flexibility and ease of use
There's no hard and fast rule for how much you should spend on new kitchen appliances. The quality and range of appliances you go for will depend on your overall budget. Built-in appliances  are an extremely effective solution. They fit perfectly within the dimensions of your kitchen and give a more seamless, elegant finish. As a general rule, you should leave about 20% of your budget for new appliances.
Contemplate an Addition
Gaining more space is often a common motivation for remodeling a kitchen. Still, before you knock out the walls, weigh the cost of the extra space. You may be able to use the money spent on an expansion for quality cabinets or high-end appliances instead.
If it's truly more space you're after, look to adjoining rooms and places where you can steal square footage. For example, it might make sense to take from a hodgepodge of smaller rooms (laundry room, pantry, bathroom, and mudroom) and merge them into one super-functional kitchen space. After that, discuss your project with a certified kitchen planner or architect. A good space planner will be able to reconfigure the walls, the ceiling, or the windows to make a kitchen space feel larger without the expense of a room addition.